As state and federal officials prepare for the October 1, 2013 enrollment date of the Affordable Care Act, unbanked and uninsured residents within Southern Bancorp Community Partners' targeted areas of Arkansas and Mississippi, as well as the rest of the country, may face two significant problems:
Challenges for first-time insurance carriers. Consumers applying for health insurance under the ACA will be required to pay monthly premiums to private health insurance companies, a first time experience for many of them. In fact, for a considerable number of eligible individuals and families it will be their first experience interacting with the private insurance marketplace entirely. And while many will be able to get help paying their insurance premiums, they will still be responsible for making monthly premium payments on time to continue their insurance coverage.
Inability to purchase insurance for unbanked individuals.  In May 2013, Jackson Hewitt released a report showing that nearly 8 million uninsured Americans who qualified for premium payment assistance will be unable to do so because they are unbanked. Of those 8 million Americans, 123,333 are Arkansans and 166,768 are Mississippians (see chart below).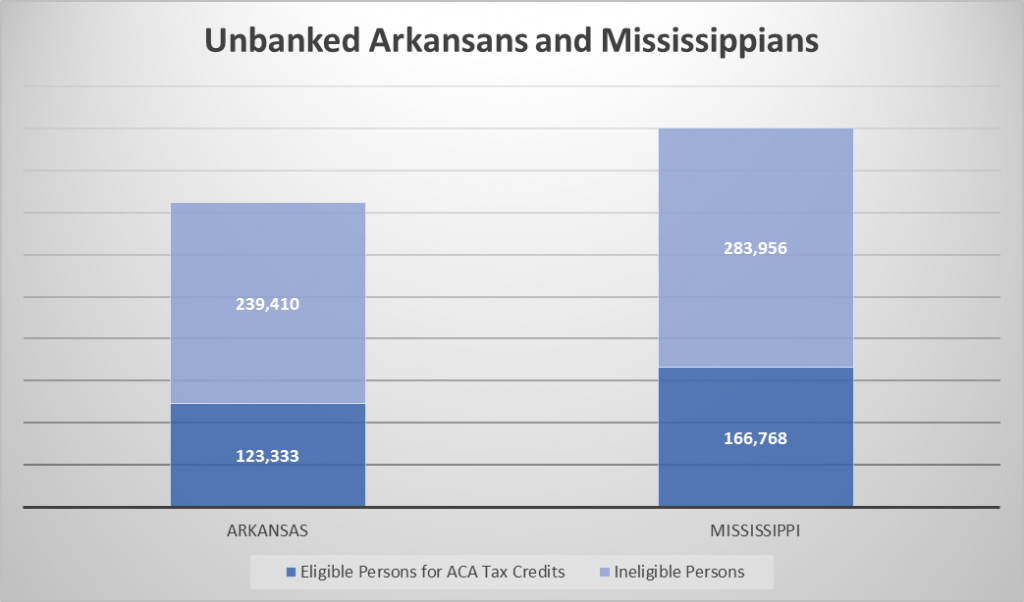 Approximately 4 percent of Arkansans and over 5 percent of Mississippians will be unable to attain health care coverage if insurance companies do not allow consumers to pay premiums through methods other than a checking account.[i] Due to unbanked individuals having no access to traditional payment methods, limited payment methods accepted by insurers for premiums can be quite an obstacle for eligible individuals acquiring and maintaining their health insurance coverage. Although the Jackson Hewitt report suggested allowing unbanked Americans to make their health insurance premium payments using prepaid cards would be the best option, the suggestion has raised some concerns. Consumer advocates have warned prepaid cards are risky and have high fees.
The good news is the Department of Health and Human Services (HHS) anticipated this challenge for unbanked individuals and included provisions requiring insurance companies to accept premium payments.  CMS published proposed rules in the Federal Register on June 19, which state qualified health plan issuers must accept a number of payment formats, including paper checks, cashier's checks, money orders, and prepaid debit cards so individuals without a bank account will have options for paying monthly premiums. Providing these options will allow unbanked individuals to acquire health insurance coverage and not prevent them from accessing coverage solely due to the inability to make their payment. The proposed rules also permit issuers to offer electronic fund transfers from a bank account and automatic deduction from a credit or debit card as payment options.
SBCP joined other members of the Assets & Opportunity Network, supported by the Corporation for Enterprise Development (CFED), in signing a comment letter responding to CMS's proposed rules.  Southern Bancorp Community Partners serves as the Lead State Organization for Arkansas.
---
[i] In Arkansas, 12.3 percent of the total population is unbanked. In Mississippi, 15.1 percent of the total population is unbanked.
To receive SBCP's quarterly public policy publication, please contact meredith.covington@southernpartners.org.