For 40 years, farm programs and SNAP (Supplemental Nutrition Assistance Program, previously known as food stamps) have been moved and reauthorized as a single piece of legislation.  However, as of this week the bills are now split, with the U.S. House passing a stand-alone farm bill and planning to move a separate SNAP bill in the near future. How will this affect working Americans? Read on to find out.
In June, the House defeated the original farm bill (H.R. 1947), which contained more than $20 billion in SNAP cuts. Nearly 60 percent of those cuts came from eradicating "broad-based categorical eligibility," which has permitted states to eliminate asset limits in SNAP since 1996. In other words, the bill would have instituted a federal asset limit of $2,000 on SNAP, inhibiting a family's ability to move toward financial security and forcing them to live at the margins.
Even more drastic change occurred when in a 216 to 208 vote, the House of Representatives adopted a new version of the Farm Bill (H.R.2642) that entirely omitted authorizations for a number of federal nutrition programs, particularly SNAP. House Republican leaders said they would consider nutrition programs under separate legislation, but that bill has yet to be introduced. And unfortunately, the bill is already looking unfavorable as the reason the measure was voted down was because many believe the SNAP cuts were not drastic enough.
The Senate did pass its own farm bill (S. 954), which still makes modest cuts to the SNAP program but does not divide the bill and would permit states to remove asset limits in their respective SNAP programs. However, it appears that it will have little traction in the House.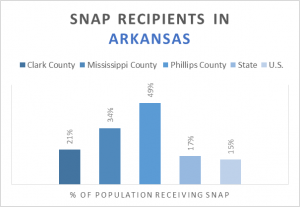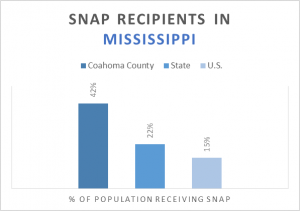 While neither Arkansas nor Mississippi has eliminated asset limits on SNAP, H.R. 1947 would have forbidden them to do so in the future and would have kicked off many residents currently on SNAP. Thousands of Arkansans and Mississippians who live in poverty, including many who work for low wages, rely on getting basic nutritional assistance for themselves and their families through SNAP.  On average, 35 percent of the population of the counties Southern Bancorp Community Partners serves are SNAP recipients.
SNAP Recipients, by County and Poverty Level

County[1]
SNAP Recipients
% of County Population
% of Persons Below Poverty Level
Clark County, AR
4,763
20.8%
23.0%
Coahoma County, MS
10,853
41.5%
37.2%
Mississippi County, AR
15,443
33.9%
26.1%
Phillips County, AR
10,188
49.0%
31.4%
Based on the chart, there is a strong correlation between SNAP participants and residents living below the federal poverty level in our communities: to be eligible for SNAP, one must have qualifying gross monthly income, net income, and assets. Income for SNAP participants has to be below the poverty line, and total assets have to fall below $2,000. Hence, the need for food assistance amongst these individuals and families is great.
As discussed in our report last winter, the adverse effects of asset limits on SNAP potentially increase the duration of time a family stays on the program. As part of SBCP's public policy agenda, the policy team worked with legislators during the 2013 Arkansas Legislature to pass SB 911, now Act 535, which requires the Department of Human Services to conduct a study on asset limits for the Supplemental Nutrition Assistance Program (SNAP) and Temporary Assistance for Needy Families (TANF). However, if a nutrition bill similar to the previously proposed bill passes, neither Arkansas nor Mississippi will have the authority to eliminate asset limits on their SNAP programs. Moreover, draconian cuts to SNAP will only further harm families who have proven to need nutrition assistance.
Southern Bancorp Community Partners will continue to monitor the situation and work with lawmakers to inform them about the importance of removing asset limitations as a way of strengthening family economic security. Contact us at tamika.edwards@southernpartners.org for more information.
---
[1] Arkansas data was retrieved from the 2012 Annual Statistics Report of the Arkansas Department of Human Services and the U.S. Census Bureau. Mississippi data was retrieved from the 2010 Census' Small Area Income & Poverty Estimates (SAIPE) and the U.S. Census Bureau.
To receive SBCP's quarterly public policy publication, Policy Points, please contact meredith.covington@southernpartners.org.